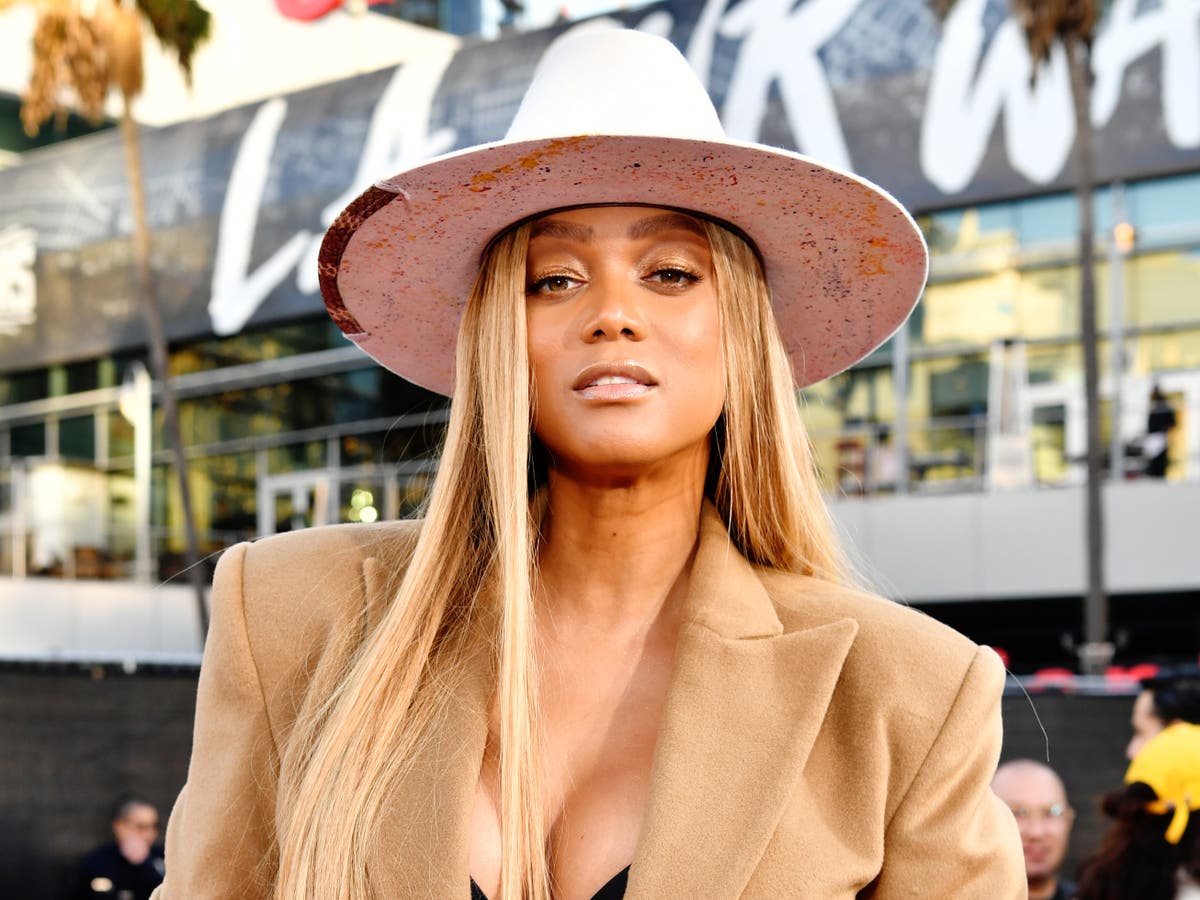 Tyra Banks has divided viewers with a "Tyrassic Park" designed by Julian Mendez.
The supermodel wore the burgundy gown, which featured giant, fan-like pleated sleeves that opened in wide circular shapes, to host Dancing With the Stars (DWTS) on Monday, in a look that reminded many on social media of the deadly spitting dilophosaurus from Jurassic Park.
Other commentators said that the dress reminded them of "farfalle pasta", while others went as far as comparing it to coronavirus.
Even the official Jurassic World franchise Twitter account posted a comparison between their dinosaur and Banks' appearance, writing: "Who wore it best?"
Another user was more blunt, declaring: "Tyra Banks bought this job so she could play dress up and has lost her damn mind".
Unperturbed by the negative reactions to her unusual dress, the 47-year-old appeared on The Late Late Show with James Cordon on Wednesday to address the dinosaur comparisons and defend her choice.
"Different is what? Better," Banks said. "I don't have time to be normal in a pretty dress, because nobody is going to say anything about a pretty dress. You've got to push it and go for it."
And in an interview with E! Online, the TV presenter said that the dress was inspired by her former role as a Victoria's Secret model.
"There's a base of that dress," she began. "It looks like a normal, beautiful dress from the 1990s. Then I go on the stage in front of the audience and everybody, and I put on the wing thing. And everybody was like, 'Oh!' because they thought the first thing was the normal dress.
"I call it Victoria's Secret wangs. It's not wings. It's got an 'A,'" Banks joked. "That's how we did it."
It's not the first time that the supermodel has gone viral with her choice of dress.
In November 2020, Banks paid tribute to Jennifer Lopez by wearing a look-alike version of the singer's iconic green Versace dress on DWTS.
According to the model, her version of the dress that Lopez wore to the 42nd Grammy Awards in 2000 was created from Versace chiffon scarfs.
Banks returned to hosting duties for DWTS's 30th season earlier this month.
The TV personality took over from co-hosts Tom Bergeron and Erin Andrews last year for season 29, also serving as an executive producer on the programme.
Banks began modelling at the age of 15; by the 1990s, she had become a supermodel, working with brands such as Victoria's Secret and CoverGirl.
She has made history as the first female model to appear on the cover of GQ magazine, as well as the first Black woman to appear on the cover of Sports Illustrated's Swimsuit Issue.