Surah Ya-Sin | Holy Quran Single Surah App for Muslims
This app is designed to help Muslims to learn read or recite Surah YaSeen directly from their smartphones.   Surah Yasin is one of the Qurani Surahs that Muslims love to read, listen and memorize to get the blessings of Allah Almighty.  Read and recite Surah Ya Seen every morning, angels will escort you throughout the day, it also act as a performance booster by making each of your task hurdle free.  Through this application, you can read and memorize the verses of Surah Yasin, and refresh your soul with heart touching recitations of the Surah.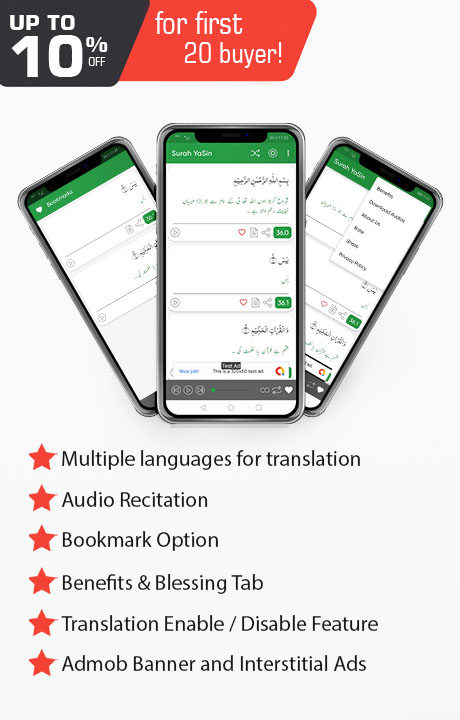 Features:
Audio Recitation  with  Abdul Rahman Al Sudais  voice
Book Mark Option
Benefits of Surah Ya Seen Tab
Adjustable Arabic font Size
Adjustable Translation font Size
Translation Enable / Disable feature
Admob Banner & Interstitial Ads
Note: In this demo version we used Urdu translation. But all languages and documentation available for paid users.

If you need any help feel free to contact me via email. And if you like our work please rate this item.