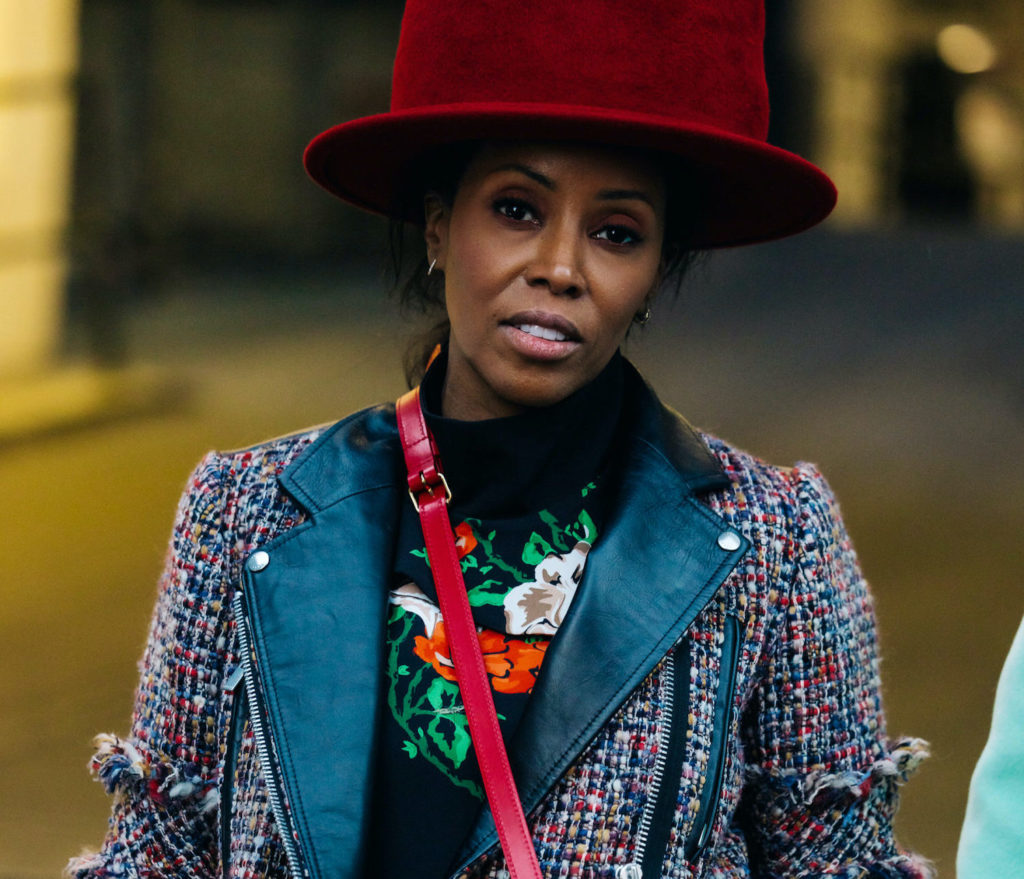 JUNE! Wow, your are everything. You are someone that I all the way from the UK has looked up to career wise growing up. You show us all that is it possible to work in fashion. From a young age, did you always know you would get into this industry?
I came here from the Caribbean when I was very young, I was like three years old. I came from Antigua in The West Indies to London… it was the British West Indies so we felt very connected with London. I called my mum 'mummy', I was into tea and biscuits, porridge… the same kind of cultural significance. We have a Queen and a Prime Minister, and all that kind of stuff. It was a British residence. So, I knew that I loved the idea of how fashion was used as a voice in conversation, translation and how I could articulate my personality or attract the things I wanted to attract from a very young age. My mum worked in retail when she first came to America and she then went into nursing. In the Caribbean she had a store, she'd always go around shopping… she loved styling us, she was a stylist! She'd always lay our clothes out and merchandise it, and when she came to America and worked in a retail store, she'd put all of our outfits on layaway. I was always seeing her with customers on a retail level, I never worked retail but I was always a very stylish little girl, like I'd always put my own spin on it from Kindergarten. I would make stuff, I would cut up my grandmother's curtains, design dresses…
What gave you the confidence to do that?
It's just my personality, I'm a Gemini. I was very precocious and my mother wasn't one of those 'speak when you're spoken to' parents. She really appreciated the person that I became. As a mother now, I realise that we don't get to create our children in this way, they're bound to the universe. We carry them and we deliver them to the universe, but they're going to be who they're going to be… we can create opportunities for them and create an environment that keeps them safe and allows them to become who they are. That's our job. The job is not to reproduce them or redesign them… my mother really left me untapped.
Did you grow up in New York?
Yes, I grew up in The Bronx, New York.
Growing up in New York, did you feel like an outcast in the area?
I was an outcast in the area… my mum was afraid that people would tease and make fun of me because I would do the most outlandish stuff, it was just insane. It was the way I expressed myself, you know. I would always like making stuff and doing and seeing things in different ways. I wanted a pair of black and white tights, so I took a pair of black tights and a white of white tights and I'd cut them in two and sew them together… I wanted this Harlequin look. Always disrupting the norm, it could be putting a bunch of pins on a jacket in the 80s'… when I could do it, I'd do it.
As a child, I'd make things out of tangible things, whether it was yarn, crochet, or needle and thread and hand sewing stuff. I always knew that I loved clothes. I then learned about costume design when I studied theatre in school. I learned about costume design, character development, and I learned about how, in the music business, that they did have stylists and costumers that did artist development for the stage clothes of the performers and Motown dancers. I was always enamoured by Diana Ross' & Michael Jackson's outfits… knowing that somebody was making that stuff. I was like, "These costumes are amazing!". So, when I left corporate America and went to work in the music business, I soon learned that there was this wide space to bring a costume designer's aesthetic and the conversation on how to develop a character, how to translate this music into a visual… and because I worked in theatre, I really understood how to build a story. It wasn't really about styling initially because we didn't have access. If I was going to style something, I'd have to buy all of it from retail stores.
How did you and Jay-Z meet?
Through Damon Dash's cousin. He introduced us. He said that he was working with this great woman, and at the time Jay wasn't an artist, he was at a record label. So, I went to the record label.
So, at the beginning, you styled celebrities such as Jay-Z, Missy Elliot, and Diddy. You designed clothes, you've directed, you've hosted on TV, and so much more. How did you get started in all that from the fashion industry?
Well, I think music and fashion were always destined to meet, marry, collide, and have children- and that's what's happened. Initially, high fashion didn't necessarily look at Black culture as a vehicle of publicity or PR, they just didn't see it that way; it was like secular music! It was like what rock n' roll was to Christians, it was secular. We didn't matter. Black culture didn't matter to European fashion in that way. It's not until we started to create our own narrative and storytelling that they started to see all of this beautiful imagery and the impact that we were having on the marketplace.
After we built up our storytelling, you can see visually that this is tangible and is something that doesn't just shift the way that the consumer buys, but it shifts culture. And because I always looked at it as a narrator, I've changed the narrative of how people saw Black music in the industry. Our goal was just to get our music played on VH1 or MTV, because they didn't play Black music. BET played Black music, so it was very segregated. So, if we could get our music on those channels, you were in it, and the images were so polarising. It happened eventually. Because of that, magazines started to take notice and when we called high fashion houses, it took that one progressive PR person to help give you the opportunity. When I first started working with Jay, I knew I wanted a very relaxed suit, and we initially went to Giorgio Armani and we weren't able to get through on the first time, so I said I'd design it. The Italians understood relaxed and effortless suiting, and with artists who never really wore suits, as their uniform was more baggy pants and comfortable stuff… being able to design one of Jay-Z's first suits- a yellow lemon suit that he wore in the Feelin' It video- and that song became such a big deal. And then when we went to back to Armani, I never said I wasn't going to go back to Armani, I was more like "Oh okay, no problem" …
You've got to go with that energy! You're going to come back.
Well, there were no hard feelings, no problems. It just obviously forced me to tap into my superpowers.