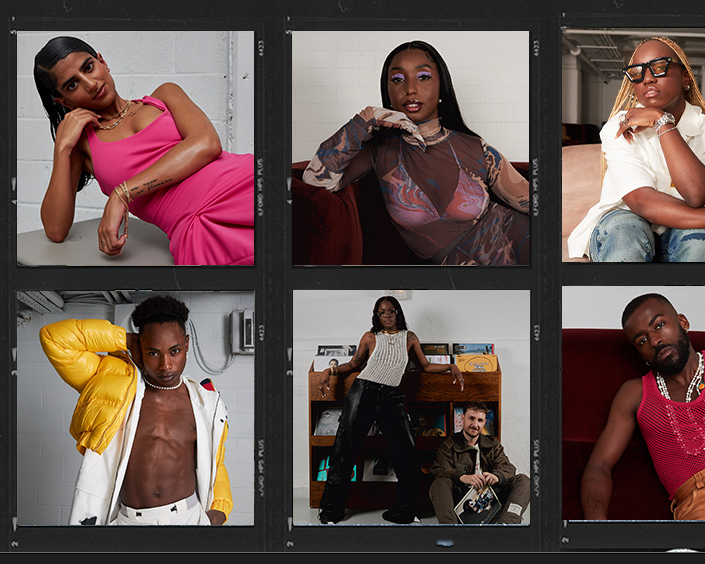 Name: Lodina, Ghadir, & Huda
Occupation: No Signal
Instagram: @lodina.jpg, @shaolinwavy & @_hudss 
This series is based on highlighting movers and shakers – what does that mean to you?
Huda (General Manager): It's always incredibly humbling when people recognise the efforts we make on our brand and the work we put in. We work hard to succeed but more importantly to also to contribute to culture so that people can have a small piece of joy whether people are locking into radio or coming to our live events/shows. There's so much talent in the scene right now and to be recognised among them is a great feeling, everyone in this series is bringing in so much talent to the cultural sphere and it's nice to be among them.
Let's go through your career timeline, tell me about how you started out and how you came to be where you are now?
Huda: I'm currently a masters student on the Legal Practice Course, initially I never saw myself in the creative industry but found my way here after joining ventures with my friends. I now find myself looking at a career path that I never considered. It's really rewarding because it shows me that there are so many roles out there in the world where you can really have fun and bring out your best self. I started working at No Signal through friendship, we're a group of friends that work together! We all work together in an organisation called High Roller co-created by Jojo and David and under it, we operate Recess, Black in the day, 720 records and No Signal.
No signal practically exploded over the last year, talk to me about the journey so far – how you've witnessed it grow and progress.
Huda: It's been a crazy journey that I am still in awe of when I think about it even though I've lived it. One of the best feelings in life is when you talk about doing something and then one day you finally put it together. Like before No Signal we never had an office space and we always said we were going to have one, so to have our own space feels great and that's even one of the smaller joys we've had over this journey! Some of the things we have done are things that have been in the making for years, like the yearbook, this was always something that sat in David's mind for years and then in 2020 we finally had the time and resources to actually put it together and now we're working on the second one and it's only going to get better as time goes on.
What inspires and motivates you?
Huda: I believe in what we do, we are trying to be a real moving piece in black entertainment and I am inspired by those whose target audience I am in, and I want to join them! I look at people like 50 cent building his own version of a marvel universe and seeing 'G Unit Productions' in rolling credits of things even outside his own programmes and I want HR to be this one day. As for motivation, really and truly, I just want to get out of the hood LOL. And just for that, I'm willing to put in the work and the hours to get there.
How important is it that we have black radio?
Ghadir (Member of the music team): It is important for us to offer black people a home to listen to the music they may not hear elsewhere like sounds from their culture and also the underappreciated genres in mainstream media. We want to provide a space where people feel like their music is being seen and appreciated. Where black people may fall into the cracks from the bigger platforms it is our job to offer them a home for their music and a place where they feel valued.
This project is a collaboration, what does collaboration mean to you and what is its importance of it? Have you worked on any notable collaborations? Tell me about the one you're most proud of.
Ghadir: Collaboration is so important, that saying "it takes a village" is more real than ever for us, we built this station through a community that we built long before we had no signal so we definitely would not understate its importance. Personally for me, to work on a release party for Drake was a huge deal. He's an artist that I've loved from my teens to now, and I'm still obsessed with his music to this day so to get that phone call was unbelievable and we had the most fun putting that together.
What barriers do you or did you face in your career that you think have changed?  / do you think there's more accessibility to your industry?
Ghadir: The barriers that I think have changed is probably the narrative that black entertainment is enjoyed by all but owned outside of the black community, there are some things that are yet to come but for now, I am amazed at how many groups and collectives are growing in personnel and resources and becoming real companies that we can look to, work, or book which is sick!
How would you describe your personal style? Is there a meaning or message behind it?
Ghadir: I would say my style is quite randomized, I don't think there's a real direction to it. I just like to go by my mood. But one thing I would say is consistent is the femininity in my clothes, even when I'm in a tracky I'll still fleek up cause it's an energy that I like to maintain.
Lodina (Brand Partnerships Manager): Gold earrings and a nice chain. Also Air Force 1s – you can never go wrong with a fresh pair of AF1s