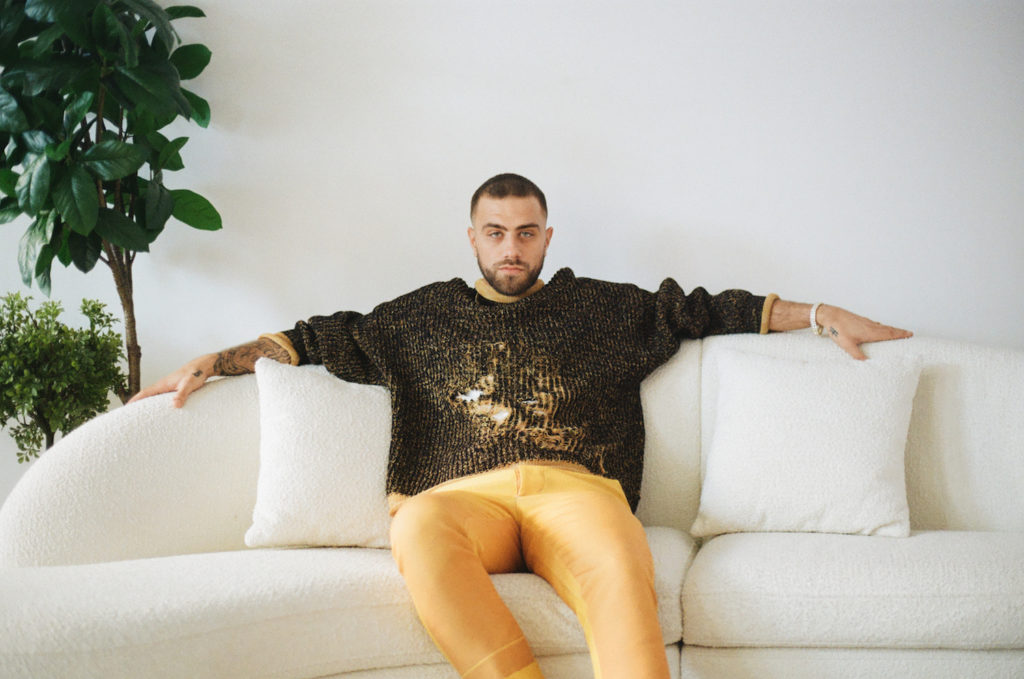 Reclining on a shaggy and extremely chic cream coloured couch, wearing iridescent green latex trousers, Harry James Jr. looks almost like a merman effortlessly adapting to his new habitat when I arrive at the Pause office on a Monday morning. Sprawled around him is an entirely female team of creatives wrapping up from a photoshoot. Before they leave and our interview begins, Harry takes the time to thank each member individually, note social media handles, and later tags them all in a warm Instagram story. The whole thing has a rather charming and authentic touch to it.
Formerly known as the rapper Fugitive, south-east London born Harry James Byart started out in the industry aged just 12, spending his formative years as a regular on Channel U. By his late teens, Harry moves into producing music for friends and changes his stage name to Harry James Jr., named after Harry Haag James, the classically handsome American musician and his grandfather's favourite artist. Following a lengthy hiatus, the Harry I meet is ready to share new music of his own. His singles, "Numbers" and "Honest", featuring Spanish rapper C. Tangana, both out now, are a breezy blend of pop, r&b and rap, and there is an album ready for release in early 2022.
In between small talk about one of the greatest Canadian rappers of all time, Belly, I ask Harry the unscripted (and slightly irrelevant to the context) question of What percentage of your team is female? It is 10% out of a team of 10 — but it's his reaction that says much more as he earnestly reflects on his inner circle and the "attention to detail" that diversity brings to all our work. At 27, Harry James Jr. has well over a decade worth of experience in music and still seems very eager to continue to grow. Below are edited extracts from our interview.