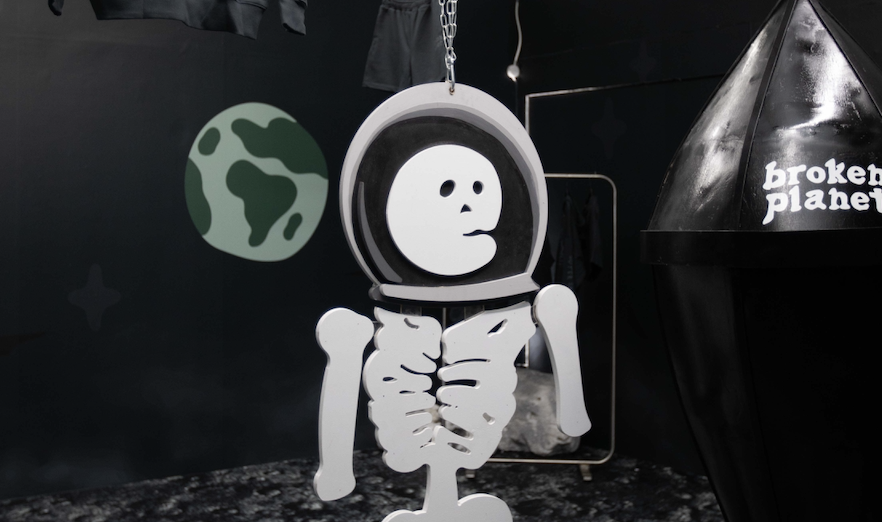 In 2020, many looked forward to growth, endurance, and a chance to delve into imagination often tainted by time and life constraints. Particularly so for Lithuanian-born Lukas Žvikas & Indrė Narbutaitė who lead Broken Planet, one of the UK's fastest-growing streetwear brands.
Despite only being established for less than two years, the fashion brand has over 50,000 customers worldwide, embracing space-themed elements, earth-tone colours, and puff prints unique to their creative repertoire.
How could one simply extend their creative abilities? Perhaps hosting their first pop-up in one of London's most-renowned and biggest venue, Protein Studios, situated in the brand's hometown, London.
That's right, guests were treated to a fully immersive experience while shopping Broken Planet's newest collection 'Alternate Dimensions' on the 30th July 2022, every bit as much as they enjoyed the break-out event with the help from famed, female-led creative firm Bayy Agency, one of the biggest creative agencies known for working alongside some of the biggest names in the industry.
As a result of the event, Broken Planet generated a record crowd dubbed as one of the 'biggest' ever seen on an event – by a landslide. This featured exclusive garments from Broken Planet's new collection.
With people arriving as early as 7:00pm on Friday to camp overnight for first access and flying in from as far away as Canada, the event catered to internet influencers, celebrities and street-wear fans alike, eager to explore Broken Planet's offerings arranged around the perimeter of the space in themed rooms celebrating their latest collection. With some individuals having to wait up to 8 hours to enter, the guests were welcomed to each of the rooms (Moon Room, Planet of Ice Room, Desert Planet Room, Planet of Life Room and the Spaceship Room) boasting different lights, temperature and smells in order to recreate and be reminiscent of its said environment.
Broken Planet's commitment to customer satisfaction includes being continuously sustainable and adhering to its ethical standards. Throughout the event, ethical food and drink sponsors ensured their views aligned with their ethos. Broken Planet's products are either made from organic cotton or made from recycled materials under fair conditions.
If you were able to catch a glimpse of Broken Planet's forthcoming collection 'Alternate Dimensions' at Protein Studios, London, consider yourself lucky. Broken Planet only sell once a month with the occasional shock drop. Upon its release, the shop will stay open for 24 hours. To stay steady and keep up with the brand, never miss a drop by following them below.