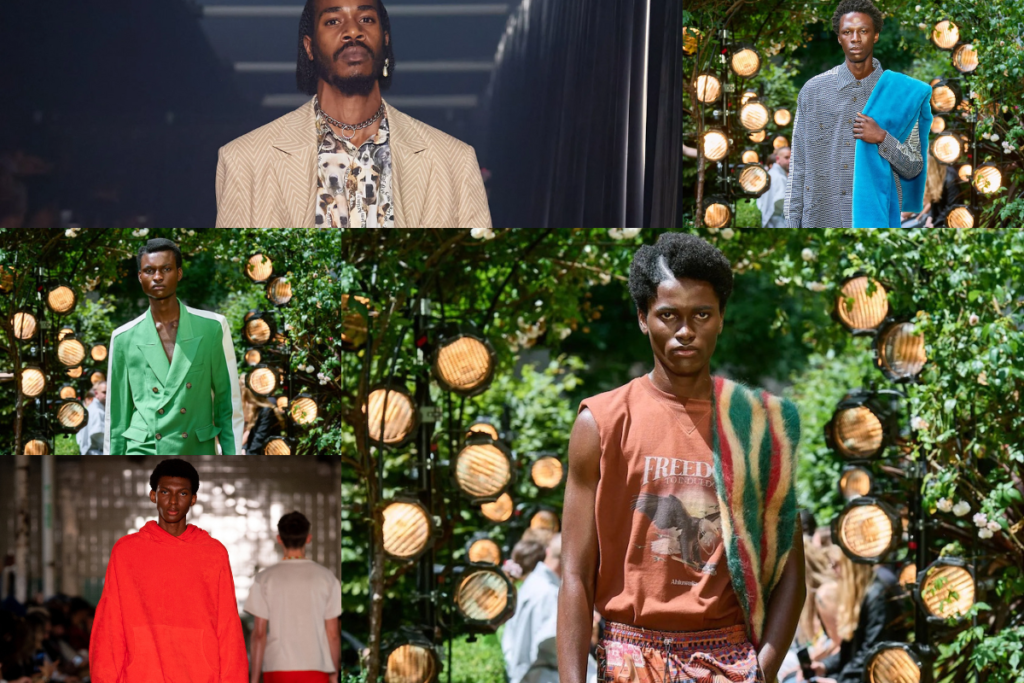 Fashion month is back, and as always the proceedings kicked off here in London as NewGen and ClearPay presented London Fashion Week Men's. A fashion capital in its own right, London, unlike its contemporaries in Paris and Milan, has become the breeding ground for emerging designer talent. With an established fashion infrastructure, fashion lovers expected Men's Fashion Week to return in full force after the British Fashion Council (BFC) announced its intention to go co-ed across its schedule.
Spanning across both physical events and digital happenings the schedule was a tad lighter than usual this year, however a diverse array of designers kept the flame alight for a London Fashion Week schedule that was a little on the quiet side. Focusing on emerging talent, a new generation of Britain's designers led by the uber-talented Martine Rose showed that London still has much to offer to the global fashion conversation.
Here is a round-up of the best shows from this season's London Fashion Week Men's:
Following up her highly revered debut earlier this year, Priya Ahluwalia presented her Africa is Limitless collection this mens season. Pegged to be one of London's premier designers in the not so distant future, Ahluwalia is undoubtedly in a class of her own. Boasting countless collaborations with names like Ganni, Mulberry and other notables, with her runway shows creative director Priya Ahluwalia is upping the ante. For season, Ahluwalia once again draws from her Nigerian-Indian heritage, offering up a visual tapestry of cultural references packed with colourful graphics, unconventional twists in garments and Africa inspired hues that celebrate the beauty of African cultures throughout the continent. A cerebral collection that serves as an ode to her roots, Ahluwalia showed why she's next up with this collection. 
Cemented in London's fashion scene, Martine Rose's return to the runway was a sight for sore eyes. Off schedule and playing by her own rules, as a heavy hitter who has separated herself from the pack Rose continues to elevate the conversation around sex, which she says all her collections are inspired by. One of London's most influential designers, Martine Rose took Vauxhall railway arches for her Spring/Summer 2023 show, presenting a sexually charged take on leather jackets, dresses and sportswear, which all appear with playful riffs and shapes.
LaBrum is a hit, every time. This is a fact. And this season's showing was no different. Titled 'Freedom of Movement' LaBrum designer and founder, Foday Dumbuya who himself was born in Sierra Leone before moving to the UK, celebrated the concept of borderless society that sees different cultures living side by side. The collection, which is hinged on tailoring, something that Dumbuya does well, featured standouts like the diamond-cut blazers, tailored boiler suits and impressive double breasted suits. As with any LaBrum runway show, the soundtrack was provided by musicians Freetown Uncut, Drizilik and DJ Rampage, whom Dumbuya had flown over from Sierra Leone.
Inspired by eBay's 'ugliest, funniest and most charming' t-shirts, Robyn Lynch presented a new take on mundane menswear pieces that for the most part, people don't notice. A carefree collection that focuses purely on creative expression, the Ireland-born designer injects fine textiles and carefully-crafted shapes into slogan t-shirts, woven two-pieces, nylon cargo pants, sliced Aran jumpers and sleeveless zip-ups. Packed with colour, acid-rave smileys and cartoon references, this collection is nothing short of eye-turning.