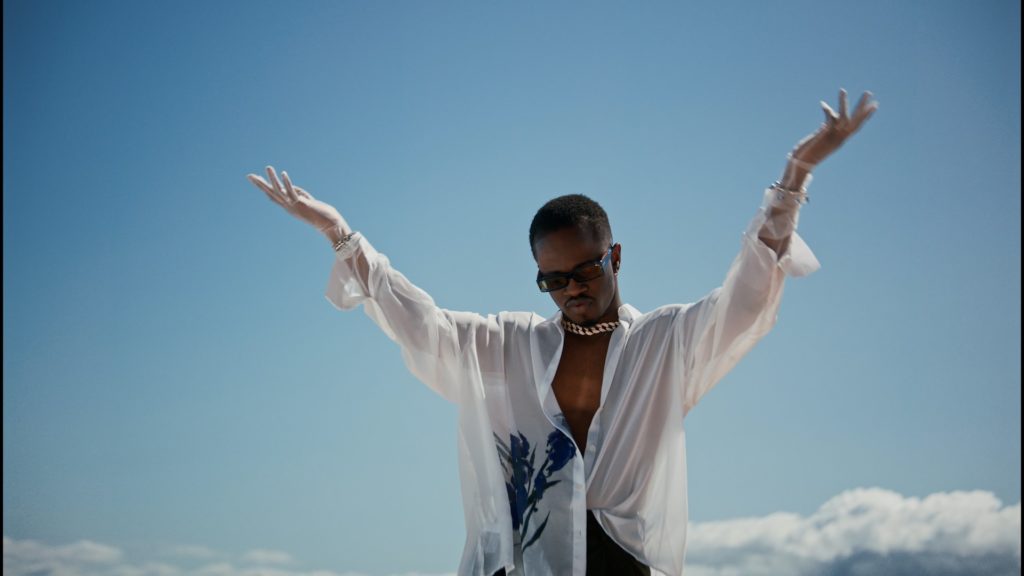 Talk to us about your first performance as part of the church choir. Do you remember that?
Oh man! I was so nervous. I joined the choir when I was five or six in Nigeria. I was doing background vocals and singing in a mass youth choir. Then, fast forward to around 2017 when I got older and I moved to the States, I joined the choir in a new church. They gave me a solo, one song by Mali Music, and I totally messed it up. Well, maybe I didn't mess it up but I'm just hard on myself. I didn't like the way I sounded and you could tell that I was nervous. I remember some young kids chuckling, but that motivated me to do more, to get better and to grow. A lot of those guys probably don't even remember. Some of them now look at me and ask, "How do you do this? How do you that?" Because some of them make music as well now.
You're a whole musician! At what age did you pick up the piano?
I picked up piano at around seven, but I never took it seriously. I gravitated towards the drums and percussion. I didn't really start taking the piano seriously until I started taking production seriously. I started producing at 15 years old. I keep growing, there's something new to learn on the piano every day. It's like that with music in general. I think when you get to a place where you feel like you know everything, you're in a super dangerous space – life is about learning all the time. I want to continue learning: learning people, learning songs, chords, production style, techniques and vocal cadences. This is such an interesting world to me and I want to continue to grow in this space.
You're definitely growing! 86,000 people currently listen to you on Spotify. When you see these kinds of figures and you get accolades, like a Grammy, how does it make you feel?
It makes me feel good. I'm having fun and I'm doing what I love but it takes time. It's encouraging because it shows that my work is being appreciated. As a creative, I'm not one of those artists that's like, "I don't care about the public recognition." It doesn't define me but I care because we're creating to impact someone. For me, I appreciate it and I appreciate the love. I just want to continue to grow the numbers and the people that are listening.
Being a creative is more than just music for you – I've seen your cool merch, Oulala. How did you transition into clothing?
I got some thaaangs coming. I like feeling good and I like looking good. Fashion and music are kinda like brothers and sisters, so that's just me tapping into my fashion space. I like being comfortable, so a lot of the things that I wear are a loose fit. We came up with the Oulala crossbody bags because I got to a space where my pockets were too much. They were holding my wallet, my phone, my keys, my everything. I was like, "Okay, I need a bag!" So I created a bag, I found a problem that I needed to fix for myself and for other people. I've been wearing scarves and bandanas for almost two years. So, hint hint. we got some things coming and it's about to fire.
If you need a plus-size model, you already know I'm in!
Back in 2017, you did a North American tour with Jidenna. It's 2021, we are ready to see you on the road again! What's the rest of the year saying?
More videos, we did a live version of the EP that's coming out. After that, I want to hit the road. I want to get back to performing in person. I'm trying to go to Nigeria this year, trying to hit London and Ghana. According to the numbers, I've got people in Kenya and South Africa that like what we're doing so we want to go see them. I'm ready, I got vaccinated so it's just time.
If we want to find out what you've had for breakfast or your favourite selfie angle is, where can we find you online?
Oh, that's a nice way to ask that! That's a good question. @Mannywellz on everything: Twitter, Instagram, Snapchat, TikTok, Triller, Facebook. No MySpace. Mannywellz.com! iTunes, Spotify… we try to make it really easy for people to find me.
Alright, do you have a last comment for the readers!
Oh, man, um… God's love is the greatest, love yourself and do whatever you want to do. Don't live in fear. If you want to do something, you have an idea, just try it out. The worst thing you can do is fail. You wouldn't die. So, just do it.